In respect to the new Aliens vs Predator: Requiem movie, I thought I'd offer up a little analysis as to who I think would win in a fight. I'd also like your output as to who would win, especially from fans of the series! I have yet to see the new movie, but after reading this review over at Film School Rejects, I think I'm going to take some time out to see it!
Alright, lets set some background on our two ferocious foes, listing advantages and disadvantages for each.. then let the battle begin! Read more
If you enjoyed this post, make sure you subscribe to my RSS feed!
I realize that there are people with this condition, but I had no idea that there was a movement for this. While this is a paid post, I would write about this one still… maybe not on this blog though. Anyway, theWomen's hair loss Project chronicles one woman's journey through life while dealing with this condition at a young age. While this is a condition that is normally associated with men, it can also happen to women, and is even more devastating in that it is definitely not as common.
This site about women's hair loss is gaining a lot in popularity and has even been featured on about.com and a major Atlanta newspaper. Read on and support this woman… let her know that she does not have to suffer in silence, and there are many people out there who will support her.

If you enjoyed this post, make sure you subscribe to my RSS feed!
Before I get started on this post, I'm still looking for comments! Only a couple so far
I can tell from the site trackers that there are plenty of people visiting.. just trying to get you guys more involved as readers! It helps provide the inspiration to write more. It can be a drag if it seems like you're writing just for yourself. Regardless, I hope that you are enjoying your time here!
Onto the content you're all looking for… B*tchy customers! This one was a doozy, and it happened last Thursday. I meant to write about it sooner but the holidays crept up on me much quicker than I anticipated. Setting the stage… I was upstairs grabbing the posters that we needed for the coming weekend, so that they could be put up. (For some reason, people at my theatre can't seem to find their movie without a poster of that movie in front of the entrance. Too hard to read the ticket? They actually get mad if you don't have it.. go figure!) Anyway, I get a call down to guest services, letting me know that a guest had a pass that was invalid for I am Legend but she wanted to use it anyway. So I make my way downstairs, as I figure it'll be a quick fix. Just explain the policy and the restrictions on the pass, she'll buy a ticket or see a different movie. Simple.
When I get downstairs, there is no one at the Guest Services counter. I walk around, asking the staff if they saw anyone. Everyone says that they saw her walk in that direction at least. Then one of my employees who was in to see a movie let me know that she actually went into the movie. Great. The other manager and I proceed into the theatre to go look for the girl. I wasn't expecting to find her, as the movie had already started, and it was pretty dark in there.
Scanning the crowd as I walk through the aisle, something catches my eye. Two girls who attempted to pull their hoodies over their heads and cover their faces. A bit suspicious, especially since it happened right after I walked by, lol. So I go up to them and ask to see their tickets (The girl who snuck in would not have one). One of them proceeds to pull out her ticket.. and the other proceeds to blow up on me. Ok.. looks like I've found her. I ask her to step out of the theatre so I can speak to her in the hall. She instead screams that I am embarrassing her and her friend. Ignoring that, I insist that they step outside, as I don't want to cause more of a disturbance in the theatre than has already been created.
Once we're outside, she proceeds to scream at me some more, about how its ridiculous that we wouldn't take her pass, how she was told that it was just the first weekend that the movie was out. Trying to be reasonable, I told her that she could check the pass, and it would say that it's not valid on "special engagements", which are typically the first two weekends, not the first weekend. After explaining to her what a special engagement was, she said that its not her fault and she was going back in. I told her that there is no way she is going back in without a ticket. Of course, she has no money. But her friend does! Not good enough though, because she insists that she needs to go home to get money. Fine.. I'm ok with that.
But she wants me to pay for her cab. Whoa. I say there is no way that I am paying for a cab for her to go home and get money. She can leave instead, and I won't escalate the issue. Instead, she wants to get the corporate number. I go to get that for her, and she asks for my name, the GM's name, and the phone number for the theatre. Fine… done and done. She then says she needs my last name…which I tell her she does not need. She then says "Well, I don't want to get racial about it when I explain it, but I guess I have to." WHOA!!!! WTF?!?!? Ok…
After all this, she and her friend proceed to pull out all coins to pay for their ticket. She has the sweetest smile on her face and says "Can I pay here?" (Guest Services). I point to the Box Office and say "Nope. Over there." On her way over there, she says "I hope you two have fun losing your jobs over this." The other manager states her fear at being fired over this. Daddy's little girl proceeds to say "My dad is a lawyer." Struck fear into me actually, having her dad take on a team of corporate lawyers… I say "See you next week, when I'm still here." She pays for her ticket, and I don't hear from her again.
Still haven't heard from him yet, and I know I won't. It's stupid issues like this that make me really angry. Parents, learn to control your kids… this is what happens when they think they're all deserving. I hope her dad laughed at her when she explained this, I easily could've kicked her out instead of listening to her.
Please… keep em coming. One thing about the holidays is that people are actually very nice… so no complaints about the past weekend!
If you enjoyed this post, make sure you subscribe to my RSS feed!
Taking care of my teeth has always been something that is important to me. I've been through everything possible, from fillings to headgear and braces. Having all of this done, I've come to realize how important it is to have good dental insurance. I'm lucky to be able to get this through the company that I work for at a very good rate. However, people aren't always so lucky. Insurance can be complicated, and expensive, especially if you don't have the right kind of coverage. They can also make you fill out a ton of paperwork, which will make your coverage even harder to get!
When you are considering dental insurance, make sure that you go check out discount dental plans from DentalPlans.com. They've been in business since 1999, providing discount insurance and information for consumers looking to purchase dental insurance. They've partnered with many different companies and have providers in over 100,000 locations throughout the country. This is great if you're looking for somewhere to go to get a quick fix.
Remember, dental insurance is important, but you don't want to get ripped off. Make sure you check these guys out if you currently don't have dental insurance. They could save you tons of money!
This is a sponsored post.
What does that even mean? Well this site gets a good amount of visitors, but doesn't get anymore comments. I don't know why. I do suppose that its the paid posts, but a guy has to make money somehow. I need a little extra to support myself, and this is one way to do it. I still may move these to a different blog, because I do value my readers.
Anyway, to get things off my agenda, I thought I'd link over to a movie review done by a fellow blogger. This one was done by Skittle, and it is for I Am Legend. Thanks Skittle for writing that!
Now back to the main topic of the post. I love comments… and they've been dwindling. The readers and bloggers that I started out with are still active for the most part, because I still see them commenting on other blogs. No hits at you guys, I understand that the writing quality has gone down, and so hasn't the frequency. My life is just catching up to me… I can't force myself to stay up late and blog all the time anymore. Luckily I have this night off so that I can blog!
One simple request that I have is… if you're reading this post, leave a comment! I want to compile a list to see who will do it. I'll surely make it worth your while! It can simply be a quick hello. I especially want to hear from those who just stop by the blog and are not regular readers. What do I need to do to make you a regular reader?
I havta get ready to go to church… hope to hear from all of you soon!
If you enjoyed this post, make sure you subscribe to my RSS feed!
So are you guys really good with computers? I'm ok, but there are times when I do need to ask for help. Well if you're in the Toronto area, be sure to give computer service Toronto a call for all of your tech support needs. They've got a neat website where you can contact them and have them take care of almost any issue you need dealt with. It's certainly better than not having any computer to work with at all! How can you blog without one? Anyway, Toronto area consumers, have no fear, you've got great tech support available whenever you want!
This is a sponsored post.
If you enjoyed this post, make sure you subscribe to my RSS feed!
I'm sorry about the late update folks, but I've been going out to a lot of holiday parties with people from the day job. As I am still a bit strapped for time.. here's the trailers for the movies that are coming out this weekend (wide release). Let me know if you like this format better!
National Treasure 2:
P.S. I Love You:
Walk Hard: The Dewey Cox Story -
Sweeney Todd - The Demon Barber of Fleet Street:
Charlie Wilson's War:
Phew. I think I did that in record time. Hopefully there are still readers/viewers here. I've heard nothing but good things for National Treasure 2… so I think that ones the one to check out this weekend. I've got a nice customer story for you guys too.. that'll come when I get some more time!

If you enjoyed this post, make sure you subscribe to my RSS feed!
Do you guys have your own hosted blogs, or do you use a service like wordpress.com or blogger.com? I used to use blogger.com, and I still use it for one of my sites, but I've found it much more rewarding to be able to have your own host and domain to customize everything yourself. While this might not be the best choice for people who are starting out, it's something you should definitely consider if you are planning on expanding your blog or website. I've done it and I have nothing to regret at all! If you are interested in getting more information on choosing a host. They've got tools to help you decide what you need when you're choosing a host!
This is a sponsored Post.
If you enjoyed this post, make sure you subscribe to my RSS feed!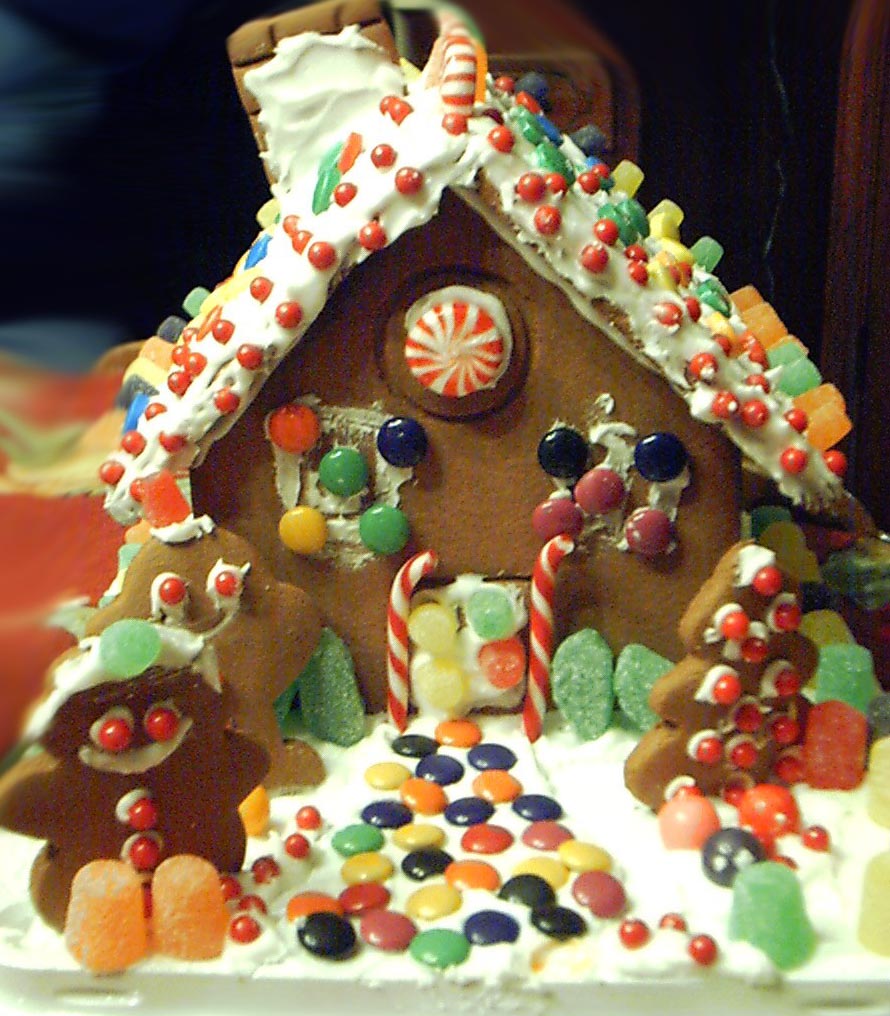 That pretty much describes my day today. Work wasn't bad, I managed to fix a few issues that were ongoing, which was good. Had a good lunch, I like lasagna.
Then afterwards my group went to go build gingerbread houses, which was a ton of fun. I also ate too many brownies while we were doing that and I feel bloated. I have pictures of the houses, but they are in my work email. I will post them when I forward them to myself. I'm really thinking that I should have done that before coming home and realizing this… You'll have to settle for the generic one that I found for now.
After work, I finished up my Christmas shopping. That was fun. It's always better when you know what you're going to get. It makes it quick and painless. I think I did a pretty good job this year, all I have left to get is a gas card for the adopt-a-family thing that my group is doing. Feels good to help out other people! Even though my car needs to be fed. lol. I found out that I really enjoy driving around, blasting the radio/ipod in my car, and singing along. That's right… singing. I don't sing in front of people very often, but I sing my heart out in the car… :-P.
So I guess that there was a lot more good than I thought. There is still a little bad though. It's an ongoing personal issue that really affects me quite deeply. I've been told many times that it shouldn't, and I've considered it sometimes… that it shouldn't. However, it continues to affect me, and I don't know how long its going to. It's no medical issue or anything really that serious, but I can get too into things sometimes. I have a good memory too, which doesn't help. Life isn't easy though, so I keep on truckin. This blog certainly helps. Just typing these thoughts out is pretty theraputic.
Anyway, I hope that your holiday shopping is going well. Do you find Christmas/Holiday shopping fun? (That was me being PC right there :-D)
On an unrelated note, don't drink coffee at 10:30 PM. You won't be able to sleep. I feel wired…
If you enjoyed this post, make sure you subscribe to my RSS feed!
I'm a huge tech person. I always like to have the latest technology, and a big reason why I picked the car I have is because of the awesome technology inside. You won't find me traveling in the stone age! Computers fall into this category too. I love having the latest computer that I can afford, and I'm always looking to upgrade! However, you can't upgrade all the time, that gets too expensive. Because of this, you're always faced with the problem of having your computer break down on you. What should you do in this case? An option you have is to call forAffordable Computer Repair.
PC Ask Me is the company that is offering this service. They provide fixes for things such as MP3 players, computers, wireless networks, and other peripherals. They can help you remove spyware and viruses, and diagnose what is wrong with your computer, regardless of where you are! Of course you could get a Mac and avoid most of those issues :-P. Anyway, when you call these guys, they access you computer securely through the internet. They can then go in and diagnose your problem, and then fix it if they can. If they can't fix it, you don't have to pay!
Going to their site, you can see the plethora of services they have to offer, as well as pricing plans and even a rewards plan. They help you to take care of any possible issue you might have, which makes their services very valuable! Make sure you check out these guys if you're looking for a company to fix your computer. Best of all, they can fix it from anywhere, you don't have to bring it into a service center a lose your computer for a week!
This is a sponsored post.
If you enjoyed this post, make sure you subscribe to my RSS feed!