That Hell's Kitchen is coming back on! The first new episode is on Tuesday, so don't miss it. Of course, I'm gonna have to ask that you guys can't spoil it for me because I have to work. I will, of course, be DVR-ing it, so I'll be sure to make some comments on it afterwards.
Do any of you guys who still read this watch Hell's Kitchen? Maybe I'll make a weekly post about it, because I really really enjoy this show. I have to say that it's one of my favorites. Gordon Ramsay is the man. I enjoyed his other show too, but I'm having a brain fart and can't remember what it was called. Kitchen Nightmares! That was it. I loved that one. Dunno what it is I liked about those shows so much, but I do.
Now if only I could cook like him, I think my girlfriend would appreciate my love of the show that much more.
Get ready for Hell!!!!!! ('s Kitchen)
If you enjoyed this post, make sure you subscribe to my RSS feed!
Hi all, time for another edition of Movies this weekend! First, I want to announce that I'll be hosting the Carnival of Cinema next week, so go ahead and get your entries in for that. It's a great way to gain exposure for those movie blogs! Another great way is to check out the LAMB! Oh, if you're submitting for the carnival next week, the link might be changing (as in that might be for this week), so I'll be sure to update if it is.
Anyway, we've got a few pretty big releases this week (one of which I think will actually make it), so let's get started.
Stop Loss - A military policy preventing a serviceman or woman from retiring once their term of service is over, due to the necessity of their position. Basically known as a backdoor to bring men and women back to the battlegrounds, this policy has affected thousands of Americans through their terms of service. Sargent Brandon King is just another who has been re-recruited back into the military. An emotional drama that follows King, a hero who has fought for America already, as the military tries to bring him back into their ranks.
How's it gonna do - I think that this movie, like most MTV movies with strong messages, will do quite well. It's the lower profile movie of the ones that are opening this weekend, but it does seem pretty interesting. In researching this post, I actually asked someone what it meant. From his response, it does seem that it's an emotionally draining experience. With a million man military, is this really necessary? We won't know for sure, but this one will definitely give us a look into how this affects the lives of those who fight for our country.
Gross wise, this does have strong competition, especially with one of the others opening this week, and holdover from Horton. I hope that this one will make it to #2, but I think that it will most likely be #3 or 4 this weekend. Maybe you guys can change that by going to this one!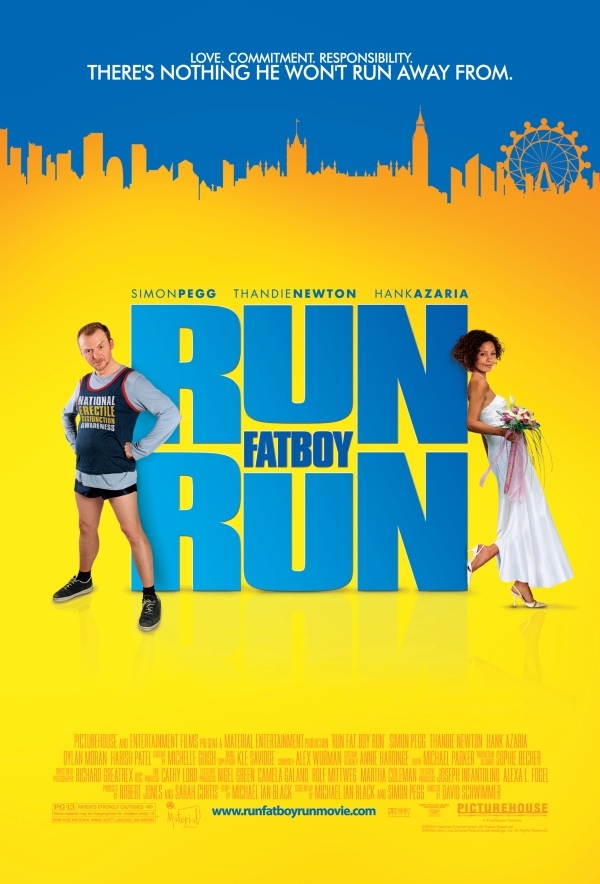 Run, Fat Boy, Run - Dennis is a normal guy, who does normal things. He smokes, and is overall, a pretty nice guy. However, a few years ago, when he was at the altar with his pregnant fiance Libby, he ran away. He didn't believe he was good enough for her, so instead of ruining his life, he ran away from the woman he loved. They still see each other all the time because of their 5 year old son, but there is no romantic connection anymore. However, Dennis realizes that he's still in love with Libby. She, on the other hand, has found someone else Now, Dennis must take drastic measures to try to show Libby he is a good person, and try to win her back.
How's it gonna do - I like the concept behind this movie, but actually forgot that it was coming out this week. For some reason, I thought that this was a limited release. Anyway Simon Pegg always seems to have a certain appeal, so I suspect that this film will do quite well. I'm gonna go with #3 for the weekend… and I'll try to see this if I can. My theatre didn't get this one, so it might be a bit tough.
21 - Inspired by a series of true events. Ben Campbell is one of the brightest minds in the country, attending MIT, one of the most prestigious universities in the country. However, he finds that he can't afford the steep tuition bill that comes with having the best education. Ben is recruited into a group of students who go to Las Vegas every weekend and use their minds to turn the blackjack odds in their favor. While counting cards as they're doing is not illegal, they must stay on their heels and try to stay one step ahead of the casino's enforcer as he monitors their behavior very closely.
How's it Gonna do? - This is expected to be the big movie for this weekend, and I think it will be. It's had heavy amounts of advertising, and the story is pretty fetching. MIT's in Boston too… well, Cambridge, but that helps. I enjoy going to casinos, and while I don't have the money to really blow on gambling, it's still a fun place to go, and I enjoy the Buffets. I'll actually be planning a trip to one pretty soon. This is definitely my choice for screening this week, and I'll try to watch enough to get a review in. I've actually seen quite a few movies recently, but just parts of them, not enough to review.
Hopefully that changes.
Superhero Movie - From the guys that brought you Scary Movie comes Superhero Movie. After being bitten by a genetically altered dragonfly, Rick Riker gains superpowers, which he decides he will use to fight evil. However, in his way is Lou Landers, who has taught himself the ability to steal the life force of others. As his new persona, the Dragonfly, will Rick be able to take out Lou Landers and save the world?
How's it gonna do - I dunno. I think that these types of movies are getting dumber and dumber. However, Meet the Spartans did fairly well, so we can never underestimate these movies. It makes an appearance at least in the top 5. I think it's #2 for the weekend.
Well, that's all… maybe I've piqued your interest in this one. Make sure to check out the other LAMBs and Fletch for other opinions!

I like drive thrus. Usually, they make things quicker, like getting my coffee in the morning. You ever run into someone who doesn't know how the drive thru works? I think you guys known what I mean. This morning, the person in front of me neglected to order when he/she was at the speaker. They just continued to drive through. When they got to the window, they just took what was handed to them, paid, and left. Of course… this was my order. So the cashier handed me what the person behind me ordered.
It wasn't what I wanted, so I made them get me a new one. I like my iced coffee.
Anyway, it was surprising that the person in front of me apparently wanted the same thing as me because they didn't change the order. It was a surprise to the people at the window though. They just seemed really confused. It could be a cool way to get a new surprise every day. Just go to the drive thru, and take the first thing handed to you, pay for it, and go. Even quicker! You don't even have to order, lol.
Speaking of something you Drive Thru….I've always wanted to go to a drive in movie. You don't really have many of these anymore, which is a shame. Now those screens were huge, and with the sound systems in some cars these days, you can get pretty good quality. Not to mention it's much more private than a traditional theatre, and you don't have to deal with the common annoyances in a traditional theatre. Could just be you and your lucky lady/guy.
Another perk about drive ins is that you usually get two movies for the price of one. Of course you do have to worry about the weather, but I wouldn't mind during the summer at all!
That's all for my short ramblings today…. new movie releases tomorrow!!! I should probably do laundry as well…I also just noticed that there is a turkey in the drive through in that picture above. Actually I've seen some wild turkeys recently. They're not scared of anything!
Anyone who reads this ever gone to a drive in movie?
If you enjoyed this post, make sure you subscribe to my RSS feed!
Hey all, don't forget to help out Mandy in picking a new domain name! Remember, you're helping out a great blogger with each comment, so lets get to it! Also, the person who's suggestion gets picked will be receiving a free movie ticket! Who knows, you might be using it to check out one of these films coming out this week!
Shutter - Based on a Thai thriller movie, Shutter explores what happens when a pair of newlyweds is involved in a terrible accident. They begin seeing distorted images and blurry things they can't explain in their pictures. Could it be that the girl involved in the accident is back for revenge?
How's it gonna do - When you try to predict how well a movie like this will do, all you have to do is check the rating. This one is PG-13. That means that it will do really well since the teenage crowd can get into it. This is usually true for at least Friday evening. After that, the grosses usually drop off. An ok weekend for this one, but don't expect to see it breaking any records. This seems like a tired genre, but good enough for #3 this weekend.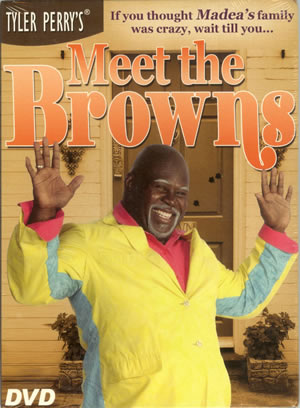 Tyler Perry's Meet the Browns - A romantic drama featuring the return of Madea to the big screen. A single mother living in Chicago, Brenda has been struggling for a long time now to make things work in her family, and trying to keep her kids off the streets. However, Brenda is laid off from her job, and receives word that the father she never knew has died. Not knowing what to do, Brenda brings her family to Georgia for the funeral, where they meet and try to get used to the crass, fun-loving Browns. Brenda also meets a new flame who might provide the turnaround she needs in her life.
How's it gonna do - Another release this week that will appeal to a certain crowd, and usually draws very well. Tyler Perry is a master at bringing his acclaimed stage shows to the big screen, and having them translate really well. Not to mention that Madea is one of the craziest, funny characters I've ever seen in film. I expect this one to do very well, and will hit the #1 spot out of the movies that come out this week. I still expect a holdover from Horton to finish above it…
Drillbit Taylor - Three high school students grow tired of being bullied, so they go out and hire a bodyguard to protect them. Drillbit Taylor, their bodyguard, poses as a teacher at their school in order to keep an eye on them. Co-written by Seth Rogan and produced by Judd Apatow.
How's it gonna do - Well, you throw in the names Seth Rogan and Judd Apatow and you got a hit these days right? It only gets better with Owen Wilson, right? Not so sure about that, but I'm willing to give this one a shot. I still think that the others do better overall this weekend, but that is, of course, not saying that this is the worst movie this week. I think it is the second best quality of film, but won't perform the second best. Also… where did they come up with this name??
Did you see anything you'd want to see this weekend? I'm not particularly sure that any of these will do well, but be sure to check out Fletch for another opinion on these films!
Well, the obvious answer to the question in this title is pearls. My mom loves pearls. Me, however, I'm not that huge a fan. What would I love to have in oysters? I'd really like it if Oysters spit out Sapphires! Not that I'm enormously greedy or anything, but wouldn't it be cool if a blue gemstone came out of an oyster? Add to that sapphires are my birthstone, and blue is my favorite color. I would go digging for oysters if that happened.
I really wouldn't mind having a bunch of oysters sitting on my drawer if they had a nice shiny sapphire in them. It's probably not as practical as a pearl though. It might also be a bit freaky, but I think that it would definitely get people more interested in these little suckers.
Have you ever eaten an oyster before? I haven't, but the folks over at Gulf oysters are trying to make sure that people are aware that there are dangers to eating undercooked oysters. Of course you wouldn't want to do that if you knew you could find a sapphire in it! Check out their site for more information!

If you enjoyed this post, make sure you subscribe to my RSS feed!
Well, Mrs. Mandypoo has put us all to the task of naming her blog. I am personally a fan of the name as it is, but as well all know, change has to occur at some point. She's even having a contest for a gift card to Starbucks for the person who has the best name for her blog! I think it's a great idea, and I feel in a giving mood, so I'm going to add to the incentive.
First though, here's my suggestion for Mandy's new blog name.. how about MamaMandy.com? Maybe not the most creative thing in the world, but it eases the transition to the new name…. right? We all know blog names are important, and while I hope I win, here's how I'm gonna help you out Mandy!
I'm going to get the domain for you, from GoDaddy, Mandy, for 1 year! All you have to do is drive people to comment on this post with a suggestion, and sign up for our (mine and yours) RSS feeds by email. If you can get 20 different people (not including you or myself), I'll get you any one (non-premium) domain that you choose from the entries! That way you'll have a great new domain name to attach to your blog, and hopefully some new subscribers!
The person who's domain name choice gets picked will get a free movie ticket! Gotta have my movies attachment somewhere!
Pretty simple, I hope! Now get out there and get your entries in…our favorite Mommy Blogger needs a new domain name!
If you enjoyed this post, make sure you subscribe to my RSS feed!
This sounds like it could be a movie sometime in the future, especially with the success of the Wii (My brother has one… I kinda want my own though, lol). Charter, a high speed internet company, is taking advantage of the success of this platform to help promote their own service. Right now, at their site, they are offering a chance to bid on High Speed internet for life as well as a Nintendo Wii.
I think this is a great opportunity. Internet can get really expensive, so this could be a great way for you to get your service at a better rate. I'd try to get in quick though, the bids are already pretty high! What's great about having high speed internet these days is that the world basically revolves around the internet. As much as I hate to admit it, I'm sure that soon you'll be able to stream your movies (legally) to your hi-def TVs and computers. I just hope that even if you can do this, you'll still come to the movies… because I miss having to serve a ton of people. Bring your smiling faces back!
Anyway, head out quick and get your bids in!
Sp0nz0red P0$t
The answer to that question is nobod. Horton's been kickin some butt. Man.. it's been a busy weekend over here! I knew it was gonna be that way when people were lining up with their kids before we opened. Who really goes to the movies at 10 am? I'll tell you. 185 people, kids and parents. And that was just for one movie. What I do like about the early morning crowd is that they're really appreciative that we're open early, and are generally very pleasant to serve.
I even found out that the weather does affect people's decision to come to the movies. It actually went like this (directly from a guest)
We already wanted to go to the movies, but were going to wait for a late afternoon show of

Horton Hears a Who

.
Decided to leave earlier… but there is bad weather (rain).
Well.. don't really want the kids at home all day, so this is good idea. Going to the movies keeps them out of the house so that it doesn't get messed up inside.
I was surprised. I mean, we always think that the weather will make business pick up, but it must really be true. How about you? Does it affect your choice?
Actually, it's pretty funny… I think that a majority of the people who read this… minus Fletch, don't really go to the movies that often. What really goes into the decision to go to the movies?
Anyway, Horton has been going crazy this weekend. It's going to be the top movie by far, which is kinda what I expected, but wasn't completely sure. I guess I should have known because of how well all the kids movies have been doing recently. What's nice is that kids movies always do well, but often they don't even get close to being something that would be considered great cinema. I think part of great cinema is getting people out of their homes and to the movies. Without these types of movies, theatres probably wouldn't exist!
The day continues on though, and things can't stay good all day. The droves eventually overwhelemed the staff that I had working, and I was all over the place, selling tickets, concessions, and cleaning. And I still go to take the time to hear from several people that I wasn't trying hard enough, that I needed to force people to come in. You try telling teenagers that you need help and they need to come in. Not as easy as you might think!
Got through it though, and I'm ready for it again tonight. Hopefully I won't have as many complaints, and I will be able to relax a bit. I need to go see Horton now though….
That's all for now, more tomorrow, including my pick for a name for Mandypoo's site!
If you enjoyed this post, make sure you subscribe to my RSS feed!
Ahhh, just finished watching a movie that I should probably be ashamed to admit that I liked. lol. Oh well, I'll let you guys know anyway. I watched She's The Man… and it's a pretty cute movie. I can say that there are some nice things to look at in this one… for guys and girls. One of the first times I hung out with my current girlfriend was to see this movie. I was pissed because they wouldn't let me off early to catch the whole movie, but it was good nonetheless. I'm gonna turn on some Enterprise soon, but here are the movies for this weekend:
Dr. Seuss's Horton Hears a Who - From the brilliant mind of Theodore Seuss Geisel, Horton Hears a Who comes to the big screen. In the Jungle of Nool, Horton the elephant hears what he thinks are screams for help from a tiny speck. Little does he know that an entire civilization lies in that speck, inhabited by the microscopic Whos. Despite the reactions of his friends, Horton will do whatever he can to save the speck, because "an Elephant's faithful 100%".
How's it gonna do? - Definitely a kids movie, and another in the Dr. Seuss series. These have always been pretty successful, and bring the children out in droves. Look for this one to perform very well, especially with that G rating backing it. I actually want to see this one, I think. It has Steve Carell, who I really like, and its CG. Can't go wrong with CG right? Just kidding. Check it out if you love Seuss or are in need of a nice kid flick. Maybe 25 million gross. Definitely not bad. Already got a good rating on the ol Tomatometer.
Never Back Down - Jake Tyler is the new kid in town, a tough guy who likes to lead with his fists. His family has just moved to Orlando to help support his younger brother's budding tennis career while Jake, a star football player back home, is left on the outside, and develops a reputation as a hot tempered fighter. At a party, he is drawn into a fight. Humiliated and defeated in the fight, a classmate introduces him to the world of MMA, and finds him a mentor. It is now up to Jake to master this, and find the patience and skill he needs to succeed.
How's it gonna do - Seems like this one is trying to be Fight Club… but it's not. It's going to have some intense action scenes, but the PG-13 rating means it will probably be pretty tame by the standards set by Fight Club. This one just doesn't have the same appeal. I don't think this one even breaks the top 5….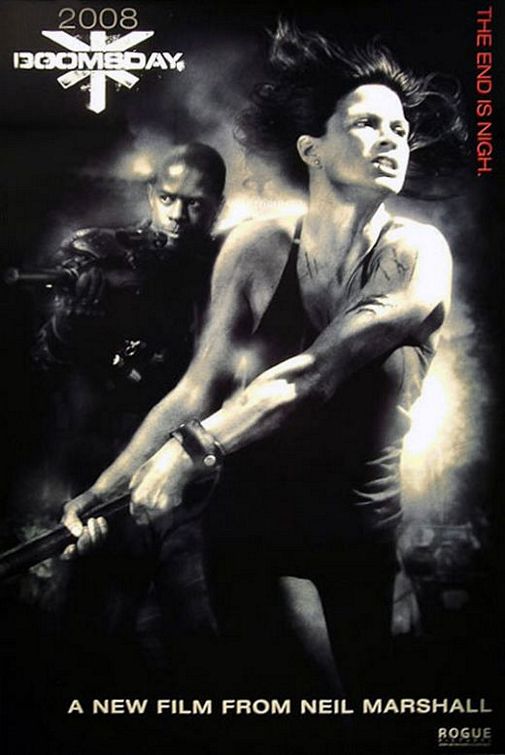 Doomsday - From the twisted director/writer that brought you The Descent comes Doomsday. When the reaper virus strikes the first time, authorities brutally quarantine a country. It's inhabitants succumb to fear and chaos. Little did they expect that the virus would resurface in a major city, and troops are dispatched to the quarantine area to hopefully find a cure. As they fight their way through, they realize that this quarantine area is quickly becoming a nightmare.
How's it gonna do? - I think that this one has potential to be great. Kinda reminds me of Escape from NY, but a newer version. I am going to screen this one on Thursday. Supposedly, this is one of the goriest, twisted movies that has come out this year. Already sounds delightful. Rated R, so no kiddies allowed. Should be fun for me checking IDs, but the rating hurts it at the box office. #3, behind Dr. Seuss and one other.
That's it for the major releases coming out this weekend. Bedtime for me… Anything you're interested in?
If you enjoyed this post, make sure you subscribe to my RSS feed!
Boy, am I tired. I played some floor hockey earlier today and I just about died. I haven't really worked out much since school ended (tear), and I'm pretty out of shape. It's just something that I've kinda forgotten about, but I really need to get back on it. It was fun to play though… I kinda wish that I had played hockey before, so that I might be doing that now. But hindsight is always 20/20, as they say.
Anyway, onto something that I wish could burn calories like a workout, a movie review! Yes, I saw the monstrosity known as 10,000 B.C. a few days back, and its time to comment on it.
I came into this movie with high expectations. Again, in retrospect, this was not warranted. I'd heard that typical Roland Emmerich movies are like that, in which the trailer is all action. In short, I was disappointed by this one.
As you may or may not know, this not-so-epic movie follows a hunter, D'Leh, and the journey he goes through to save the love of his life Evolet (played by Camilla Belle). She had come to his tribe after her tribe was wiped out by some raiders. Upon her entry into the village, the "old mother" of the town has a prophesy that in a few years, in the final hunt, a terrible tragedy will befall the tribe. However, Evolet and her mate, who is yet to be discovered, will be the ones to find a way for their tribe to continue. D'Leh's father, in the meantime, cannot wait for this to happen, and sets about on a journey to try to find a way to save the tribe.
The years pass and the "final hunt" approaches. I don't know why it's a final hunt, but it is.
Evolet and D'Leh are grown, and have grown quite fond of each other. In their tradition, the one who kills the Manek (Wooley Mammoth) will be able to claim the white spear and his mate. D'Leh manages to do this, and claims Evolet as his woman. However, it turns out that he killed the Manek by accident, and he gives back the white spear, and Evolet as well. While he thinks about what he has done, a raiding group comes through and kills some people, and kidnap the others.
The remaining people in the village are at a loss. D'Leh, fearing what might happen to Evolet, decides that he must go after her. The old mother in the village agrees, and the three remaining hunters go after the raiding group to try and save their people. On their way, they encounter many other tribes who have been attacked as well, and they join forces as they travel along, towards the inevitable showdown with the "God" that has ordered their people taken.
I must admit, that does make it sound a bit epic, but trust me, it's not. I tried to force myself to enjoy this one, but I just couldn't. I'll take solace in knowing that it was free.
If you're thinking about this one, find something else… you'll be happier. 2 out of 10. Blah.
If you enjoyed this post, make sure you subscribe to my RSS feed!